Meet Pam Freitus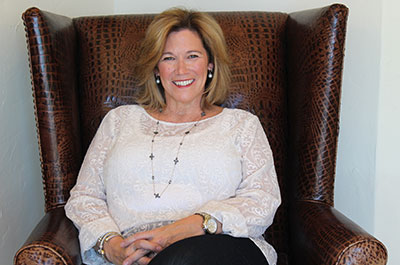 For Pam Freitus, a family relocation from Connecticut to Shanghai, China in 2000 changed her life forever. A nurse for many years, it was in China where Pam discovered that the beauty of the pearl sparked and awakened her creativity. Shanghai was the emerging fresh water pearl mecca and during the three years her family lived there, Pam studied the Chinese culture, Mandarin language and pearls. Returning annually to Shanghai with no language barrier to inhibit her communication skills, Pam personally selects the pearls she uses to craft her beautifully designs.
Pam's mission is to offer authentic American-made jewelry from quality pearls at affordable prices for American women. Making unique jewelry from hand-picked pearls, stones, leather, crystals and glass she may intersperse the pearls in ropes of turquoise. Or the Ying and Yang of black and white, or sapphire and diamond bling may be chosen to set off the soft reflection of the pearl's whiteness.
Look for her signature, a small red bead that identifies the piece as hers. It is a symbol of the Chinese culture, serving to pay tribute and honor the country where her passion for pearls began.
Pam established her Pearlhill company in Texas in 2003. Annual visits to Nantucket and her 23 year friendship with Landings resident Judi Hill developed into a creative partnership neither one ever expected. Since 2009, Pam exhibits exclusively at Judi and Greg's Nantucket Pearls and at private home events scheduled by Judi. Today, Pam lives with her husband and two daughters in San Antonio where she also creates from her Pearlhill studio.